What is a Hipster?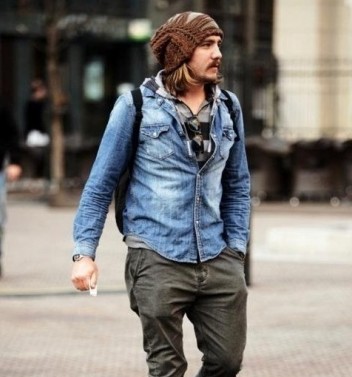 Avery, Editor-in-Chief
January 28, 2016
Coffee, vinyl records, and moustaches –  these are so-called "hipster essentials." People normally think of those in their mid 20s to early 30s as individuals who like to wear flannel, love things that are vintage, and do some form of art. These stereotypes are normally true for that age range, but does that make them all hipster? In fact, what is a hipster?
Hipsters are people who don't follow "mainstream" culture. This means that they don't follow and do things that are popular at the time. "They snap Instagram photos of each other — in black skinny jeans and T-shirts with funky epigrams like 'If You Deny It, You Are A Hipster' — and turn the pix into iPhone cases. They buy cool-cat snuggle clothes at American Eagle and down-market monkey boots at Urban Outfitters," according to Linton Weeks, a writer for NPR's website. They appear to be drawn towards things that can be categorized as off-beat, artsy, or funky.
There are many parts of the hipster life that make them stand out from the crowd. When it comes to music, many hipsters listen to indie bands. These bands normally aren't very popular, and their names may be less familiar to the common man. More popular indie bands include Nirvana, Arctic Monkeys, The Strokes, Vampire Weekend, and Florence and the Machine. Music that hipsters listen to is far more unique and interesting than mainstream music, which follows the same ideas (love and money) and the same upbeat pop-like sound.  In addition to music, hipster have their own flare in clothing. Most men like to wear graphic tees, Converse, and skinny jeans. Women normally wear Doc Martens, suspenders, and overalls. Both men and women like to wear flannel shirts as well. On the other hand, one may find that non-hipsters are clad in collared shirts, khaki shorts, leggings, and well-tailored clothing.
According to Yelp, the most popular hipster hangout in Milwaukee is Odd Duck. Odd Duck is an American restaurant that is in the Bay View area. They offer a wide variety of food for vegan and vegetarians as well. Other popular hipster hangouts in Milwaukee are Comet Café and Roast Café. Comet Café is on the East Side of Milwaukee. They serve breakfast until 3 p.m., and according to their website, they have the best hand-cut fries in town. Roast Coffee Company has interesting art made by local artist, and it can be bought for a reasonable price. 
Want to learn more about this lifestyle? Check out their favorite locations and enjoy their music, unique clothes, and chill vibes.
Total Views: 9924 ,