Science Fair
Ava, Daily Life
May 19, 2016
Once a year the St. Robert School showcases their science classes. Students perform experiments and present them with a tri-fold board set up on the gym floor. Every student in middle school and some students in elementary school work on a project either by themselves or with fellow students. Projects can vary from taste testing to making sugar crystals. Although students can choose their own project topics, they must follow the scientific method. Students are judged on their required elements, such as their background research, experiment and other assets from the scientific method. The science fair is held in the gym; the seventh graders helped set up the board and make the lemonade and popcorn. Middle School science teacher, Mr. Kierzek, runs the science fair.
He says, "[This] was my 5th year running a science fair and my seventh year involved with one."
He gives students about one to one and half months to work on and complete their projects. Mr. Kierzek claims that it takes about a week for a simple project and could take months for an advanced project. Students need to able to consider time restraints and plan accordingly.
Some common projects that students often choose have to do with food. Although they all have a relatively same idea, Mr. Kierzek informs them that all of the projects have to have a unique twist to them. Other than that, Mr. Kierzek says that there is a lot of diversity among the projects.
Seventh grader, Fiona, was one student who did a food project. Fiona enjoyed the science because, as she explains, " I [worked] with MaKayla…and had a great time doing the project because she is one of my best friends so we had fun with it and were able to get good work done."
Fiona and Makayla did a taste testing project titled No No. For one portion of the experiment they asked volunteers to try a food and asked what it was. For the other half of the project, the volunteers would get the chance to smell and eat the food in order to guess the food type.
Another project was How Do You Remember? This was done by seventh graders Liam and Joe . They tested students in their class on ways to remember. They tested students on auditory and visually and determined what your strong suit was.
All in all, the science fair was a success with the diversity of the projects, the judges,  all the students who participated in the fair, and Mr. Kierzek who put the fair together. The school hopes that this year's fair could inspire more to do experiments and to participate the fair next year!
Total Views: 2691 ,
About the Contributor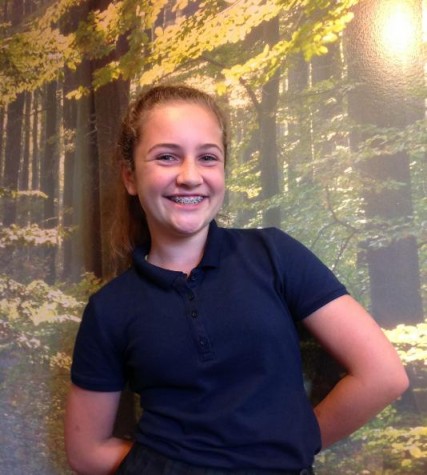 Ava, Editor-in-Chief / Fine Arts Writer
Ava was born in Wisconsin.  She writes the Daily Life section for the newspaper. She is in seventh grade, and Ava has gone to Saint Robert for nine years....