Local Fashion Sparks Creative Community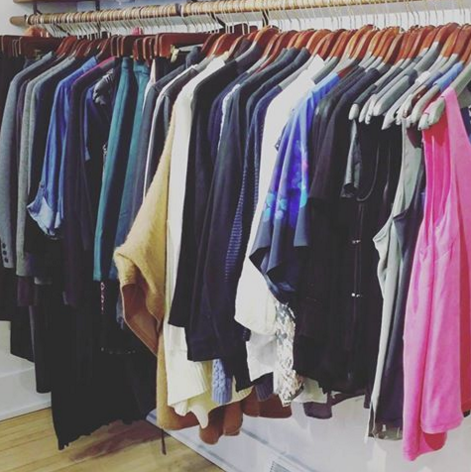 Milwaukee is incomparable to a city as big as New York or Los Angeles, especially in the fashion industry. However, there are stores and local businesses that prove they have just as much flair as any commercial chain or big city business.
There is a need for design in every city, big or small. Terry Schafer, founder of the Milwaukee Fashion Incubator, saw the need for somewhere fashion-oriented in the city that people could come to as an educational space. Since then, the Milwaukee Fashion Incubator was born in the Historic Third Ward. The company brings design, creativity, and personal style to life in workshops, private lessons, and even birthday parties. The MKE Fashion Incubator hopes to help "budding young fashion designers… make fashion come to life." Although children are their primary age group of clientele, the local business welcomes people of all ages into their educational space. They can teach anyone how to operate a sewing machine, make a hair accessory, or how to upcycle old clothes. The Milwaukee Fashion Incubator has also worked with many local businesses such as Plaid & Simple, Swoon Swimwear, and Virtuous by Design. This local business focuses more on creation and personal style than following the latest fashion trends.
Another local company that values local designers is Milwaukee Fashion Week, or MFW as an abbreviation. Established in 2014, MFW saw "a need to showcase local designers, models and stylists." An annual show allows local designers show off their work. The 2017 show will be held at the Milwaukee Athletic Club. Professional designers, models, makeup and hair stylists all send in their portfolios online. Then, the staff behind MFW decide if they should be featured in the event. Every event's profits go support a local charity, and like the Milwaukee Fashion Incubator, MFW gives local entrepreneurs a chance to let their talents grow.
Although there are many creative small businesses in the Milwaukee area, the store, Shop in Shorewood is a particularly interesting boutique where one can find unique pieces from outside the city. In October of 2007, Shop opened, offering "basics with a twist" and "updated classics with a few trendy prices thrown in." The owner and founder of the store, Liz LeBlanc, has fine-tuned what she wants the experience to be like. What sets this local shop apart is that they "handpick everything that [they] carry in [their] store" whereas a mainstream store simply ships "whatever their home office decides to ship." Also, Shop offers "personalized customer service" and "quality merchandise at a reasonable price", making the experience at this boutique extra special. Contrary to many other stores that have a particular target age group, Shop has a wide age range of customers and focuses more on the product itself. However, most clients are between the ages of thirty and fifty-five.
Although Milwaukee and the areas surrounding may not be considered very fashion-oriented, local businesses like the Milwaukee Fashion Incubator, Milwaukee Fashion Week, and Shop can help the community grow creatively and have a world that is more open to design.
References
"About Us." Milwaukee Fashion Week, Milwaukee Fashion Week Board. 2016.
http://milwaukeefashionweek.com/about/
Milwaukee Fashion Incubator, Mke Fashion Incubator. 2016.
http://www.mkefashionincubator.com/home.html
Total Views: 1939 ,