Bump, Set, Spike!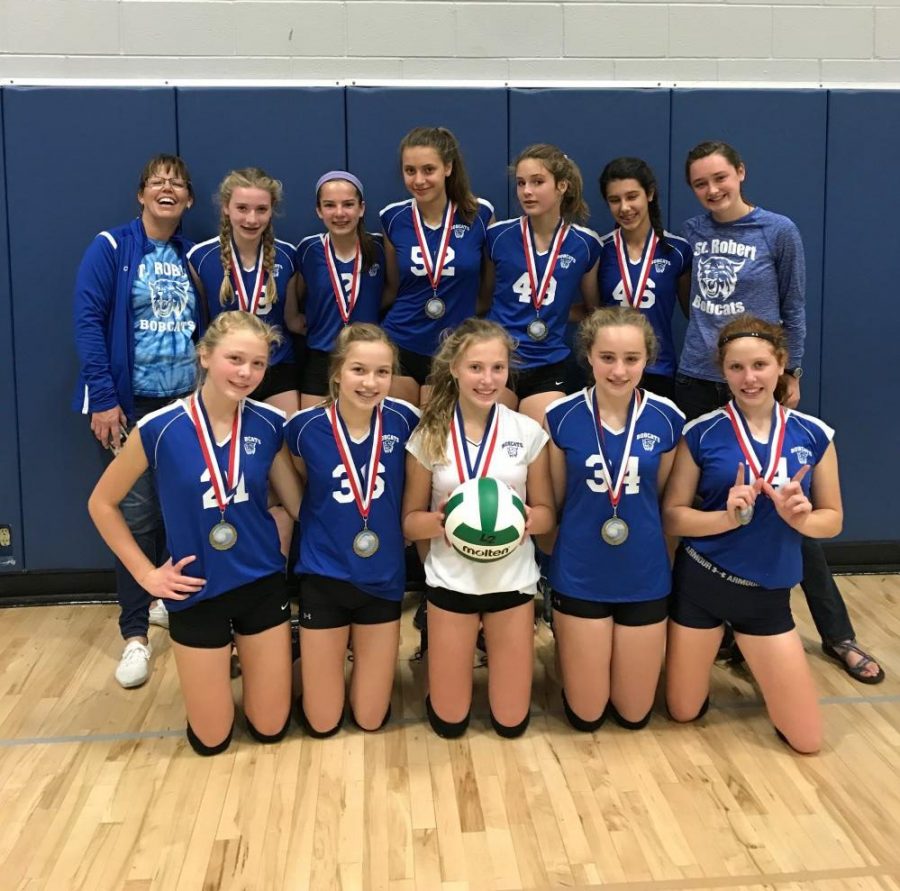 Conor, Sports
October 19, 2017
Bump, set, spike! The volleyball season is off to a running start for many teams across the country, including the St. Robert eighth grade girls A team. Their season started only a few weeks ago – at the start of summer – and their whole team is already full of anticipation for what is to come this season.
Lucy is a setter and right side hitter on the team and she is thrilled to be starting her third season with the Bobcats. She is very excited for their team's final year with new coach, Mrs. Eimers. Lucy states, "I think our coach this year is more effective for our team's success because during practice we are able to do more scrimmaging and model more game-like situations. Also, she encourages lots of team spirit and high intensity on the court." Lucy thinks that the Bobcats will be a more organized and structured team than they were last year because of the coaching adjustments. Although Mrs. Eimers can be a hard core coach, she will definitely push the bobcats to the best of their playing abilities this season.  
Lucy and the rest of the Bobcats are very hopeful to snag a spot in the Seton Volleyball tournament this season. The Seton is a very competitive tournament where the best teams in the conferences from Kenosha, through Milwaukee, and even all the way up to Fond Du Lac get invited to compete and play for the championship. The Bobcats have about one month left to prepare for this tournament. Lucy says, "This year our team is scheduled in three tournaments, not including the Seton." She and her teammates enjoy tournament games slightly more than regular season games because tournament games are more competitive, and the Bobcats are able to play teams that challenge them. Lucy went on to describe how the Bobcats wish they were in more than just three tournaments.
The members of this elite team have been honing their volleyball skills outside of their school-based team as well. "In addition to playing volleyball for what will now be my third year for St. Robert, I have also played club. In 6th grade I played for Premier Volleyball Club and last year I played for 360 Volleyball Club," says Lucy. She thinks playing club volleyball is a great way to meet new people and to gain more experience in order to become a better player. When asked whether she likes club or Bobcat volleyball more, she said, "I would have to say I like St. Robert volleyball better because it's a combination of doing what I love [and spending time] with my best friends. Club is always fun, but the spirit that our Bobcat team has makes it more enjoyable. I really know my teammates on the St. Robert team, and I know that I can be myself on and off the court." What she likes most about playing for the Bobcats is the idea of being able to have fun with her friends, while still benefitting from good coaching and competition.
The volleyball season for the St. Robert girls A team is off to a great start. Much of this is due to the team's great bond. Lucy concludes, "I would say our team does have good chemistry, and we all work very well together. Since we are such good friends, we always know what to say to motivate each other, and we all know how to remain positive when we are struggling. We can push each other without offending one another, and I am so privileged to have such a great team!"
Total Views: 1229 ,