Help after Harvey!
Hang on for a minute...we're trying to find some more stories you might like.
St. Robert School has contributed and helped the state of Texas by raising money for those who are struggling with the aftermath of Hurricane Harvey. For a few weeks, on Friday, before school mass started, students in the 6th grade class stood by the entrance doors and held out baskets, where they collected the money. In total, St. Robert raised over 800 dollars to benefit the victims of this tragedy.
Mrs. Luna, one of the second grade teachers, has some of her very own family living in Puerto Rico, an island that was devastated by Harvey. She thinks the fundraiser was a great idea to bring the community together and to raise awareness for the people who may be homeless, without power, or in a food shortage. Thankfully, she has been able to contact her relatives since the hurricane struck. Mrs. Luna states, "My father-in-law was busy helping other people board up their houses before the hurricane. He lives in southern Puerto Rico, so his area was not hit as hard as the northern area. He had power but did not have water."
After hearing about the devastation and the hurricane, St. Robert School was moved to help provide everyday essentials, such as water, clothing, and food. Many students have said that this tragedy caused them to reflect on their own lives and come to appreciate the safety they have here in Wisconsin, where hurricanes cannot impact citizens directly. Unfortunately, Hurricane Harvey was quickly followed by Irma and then Maria. While other tropical storms brewed, these three did the most damage to Puerto Rico, Texas, Florida, and other island nations. Now, the money raised may be distributed between victims of all of these tragedies. This community was coming together and giving their best efforts to help.
Ms. Mathews, a teacher at St. Robert School, helped to organize this profitable fundraiser. She recalls about how the idea came to life: "It was Ricky [a 6th grader at St. Robert]. He had an idea that [the students of St. Robert] should do something for the victims for the hurricane. He came in early one day and asked if he could do something. … We decided to do the collection at church…. The 6th graders made posters, and the 2nd grades made signs, which were held up in the car line as a reminder." The money went towards Catholic Relief Services, a foundation that helped with the hurricane relief efforts.
St. Robert was very proud to have raised so much for those who needed it. Teachers and students are glad that they could contribute to help people in the aftermath of this terrible natural disaster. Taking part in this project was not only helping places that have been harmed by Hurricane Harvey and multiple other hurricanes, but it also taught St. Robert that they can always do something to make an impact, even if the people they want to support are far from Wisconsin!
Total Views: 508 ,

About the Writer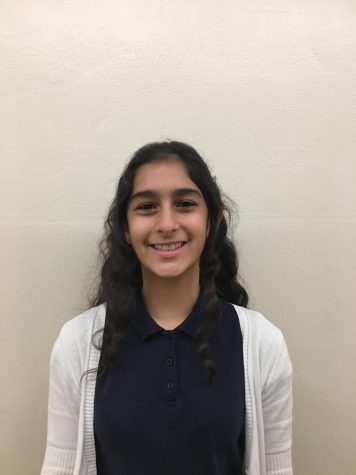 Leah, Daily Life
Leah is an eighth grader who likes to read and write. She has been at St. Robert School for 10 years. She writes for the Daily Life section of White and Blue Press. She likes to play volleyball, spend time with friends, bike, and eat Kopp's chocolate ice cream. She hopes you will enjoy reading her articles about what happens here at St. Robert School.