The TV Show of the Century
Hang on for a minute...we're trying to find some more stories you might like.
Monsters, friendship, thrill, and action are among the many reasons that people love the show Stranger Things. Stranger Things is a popular Netflix Original that was first released October 2016. The series falls within the science-fiction genre, and humorous and drama filled scenes help to tell the stories within the show.
The show is about a young boy named Will, who disappears from the small town of Hawkins, Indiana. The series also tells the story of his mother – Joyce, his brother – Jonathan, his friends – Mike, Lucas, and Dustin, and the police chief – Hopper, who are all on an endless hunt to find their missing friend Will. Eventually, they confront a supernatural force in order to recover him and a mystery arises when an unknown girl with a shaved head is found in the woods and she somehow knows exactly how to locate Will. In its first season, this show received millions of good reviews and garnered an innumerable amount of fans.
The long wait for season 2 is finally over because on October 27, 2017 the newest season of this show was released on Netflix. Since that day, many have busied themselves with binge watching this popular show.
The show Stranger Things attracts people of all ages. Eighth grader Maggie is very passionate about the show: "It is really refreshing to see a sci-fi show when there are so many drama shows right now. It is so different from anything I've ever seen. It's also really cool and it has a super good hook." Eighth grader Natalie also claims, "The show takes an everyday life of a boy and transforms it into a fantasy show."
Many people love the show due to its unique sci-fi 80's theme. While younger generations praise this aspect of the show as unique, older fans appreciate this throwback to the classic films they enjoyed when growing up. Teens today may look down on the original 80's sci-fi films as cheesy or dumb, especially due to the low-quality special effects used at that time, but this show is viewed as thrilling and keeps fans on the edge of their seats. Fans young and old have found a way to connect to this throwback thriller.
Eighth grader Georgia adds, "I like it's uniqueness. It is really different because it is set in the 80's, but it's a sci-fi. Also, it stars kids, which makes the characters even more lovable."
Another reason that Stranger Things is such a popular show is that the cast is made up of an extremely lovable group of kids and adults. Maggie continues, "I feel like the casting choices of the show were phenomenal. I like how Winona Ryder, who was really famous in the 80's, is starring as Will's mom in this show set in the 80's. I also like how all of the kids that star in the show are such good friends; it makes their acting even better."
While this show has proven to be an entertainment giant, students should be aware that there is some mature content and pretty terrifying sequences in the show. The series is not intended for young audiences, but if parents have given the stamp of approval, a more mature family may be able to enjoy this show together!
Total Views: 716 ,

About the Writer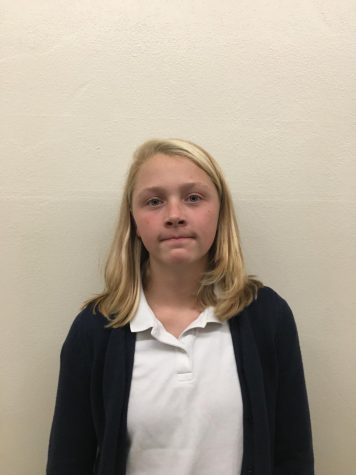 Phoebe, Blue Issue Editor
Phoebe is an 8th grader at St. Robert School and is an editor for The White and Blue Press. She enjoys binge watching Netflix, wakeboarding, and eating...