Sales Galore!
Hang on for a minute...we're trying to find some more stories you might like.
Black Friday is a nation-wide day dedicated to one of America's most beloved activities: shopping. In fact, "Black Friday is the biggest shopping day of the year in the biggest economy in the world." The sales on Black Friday this year drew numerous shoppers, including myself.
Interestingly enough, Black Friday has been such a monumental time in economics for some time, but in the 1869, the name "Black Friday" did not mark a spike in sales. In fact,  the day marked a crash in the U.S. gold market when two greedy individuals sparked the fall the stock market, bankrupting many in the nation.. This "Black Friday" was not after Thanksgiving, but actually took place in September.
Eventually, the term became associated with the profit margins retailers made leading up to the Christmas holidays following Thanksgiving. In fact, so many people shopped the day after Thanksgiving that in 1939, when the holiday was supposed to land on the fifth week of November, the date of Thanksgiving was  moved to the day it is today (the fourth Thursday of November) to accommodate retailers and give consumers more time between the holidays to spend their money.
Today, masses of people hoard retailers on Black Friday, most often in the middle of the night, to purchase gifts from a wide variety of stores. Most stores offer half or even 75% off all items in their store. Also, there are often bargains persuading the buyer to purchase one item, and in return, the consumer receives a second one free. It is said that on Thanksgiving weekend, Black Friday sales attract more people than Disneyland! Additionally, people from Canada used to travel south into the United States to get in on the excitement. After realizing Canada was lacking on the sales, the tradition of Black Friday then carried into Canada. Black Friday has more history than one might think for a day that just revolves around buying and spending!
Last week was my second experience Black Friday shopping. I went to a mall in Madison where I weaved through swarming crowds of people searching for their desired gifts. Some of the most popular stores at the mall I attended were Lululemon, The Apple Store, and Macys. There seemed to be double the usual employees working at most of the stores to accommodate the needs of the shoppers. Lululemon sold tank tops for 30% off  and boasted buy one, get one half off for some shirts. The Apple Store was full of people lined up to see the debut of some new technology, such as the Iphone X, which was recently released in stores. The mall I went to was relatively on the smaller side, so I cannot imagine the crowds at shopping areas like the Mall of America! I purchased a few items with reasonable sales when I went shopping. Although some check-out lines were longer than normal, I would definitely say I do not regret my decision to go shopping and get in on all the deals.  
Black Friday is a way to take advantage of exciting sales and earn rewards for any items you desire to have. Black Friday is also a great day to do your Christmas shopping while not shelling out loads of money. Although Black Friday this year has passed, be prepared to go shopping and save your money on Black Friday next year! If you can't get out on Black Friday next year, remember there is always Small Business Saturday and Cyber Monday as well!
Total Views: 436 ,

About the Writer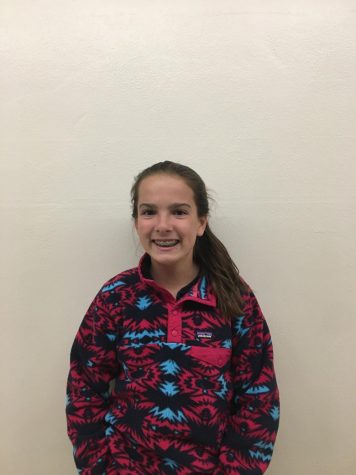 Lucy, Editor-in-Chief
Lucy is a current 8th grader at St. Robert. This year she is Editor-in-Chief of the White and Blue press, and she is very enthusiastic to see what this...