A Night of Music
Clara, Fine Arts
November 30, 2017
Hang on for a minute...we're trying to find some more stories you might like.
As students rushed into Reilly Hall late on the evening of November 9th one couldn't help but notice the anticipation and excitement radiating off of each performer.
Kids ranging from grades fifth to eighth spent their evening putting on a show to present the mastery of their learned concepts from music class through a performance of some rehearsed pieces. Many songs were sung and played throughout the night, including "Go Tell Aunt Rhody", "Interstellar Fanfare", and "New World Symphony", just to name a few.
In addition to this showcase being the first concert of the year, it was also the debut concert for those students in beginners band. The fifth grade band performed amazingly at their first ever concert. "Although we only heard them during the dress rehearsal, they sounded very good and well prepared," stated Naod, a more advanced band student.
Although it may seem like the preparation leading up to the concert was a smooth ride, most classes had to overcome some difficulties along the way. "Even though we worked hard, we missed lots of practice days [due to]breaks [from school]," said Naod. Band was not alone in feeling the pressure of missed rehearsals. In fact, "Choir class had to cut one of our songs because we weren't ready with it," stated Emma, an 8th grader.
Despite early roadblocks, the concert was a success and all students walked away feeling proud of their performances.  "I feel like I did [well]," stated Emma, "although I hope our next concert will go even better."
The concert ended on a high note, thanks to the numerous amount of sacrifices and efforts put in by  the wonderful music teachers here at St. Robert. Without the help and guidance from teachers and directors, the show could not go on.
Total Views: 1160 ,

About the Writer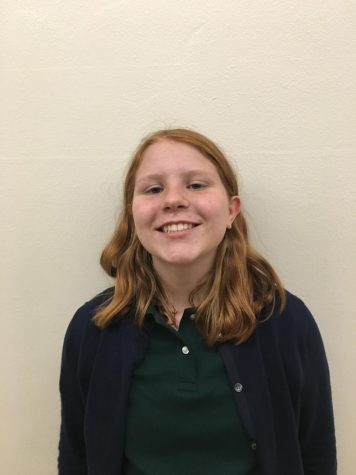 Clara, Fine Arts
Clara is a new writer for the White and Blue Press. She is in the seventh grade and will be writing for the Fine Arts column. This is Clara's first year...