Getting Festive This Christmas
Hang on for a minute...we're trying to find some more stories you might like.
Almost as soon as Thanksgiving comes to a close, the turkey-lined shelves of the grocery store are replaced with rows of candy canes and assorted Christmas calendars. Christmas is a time where everything is merry and bright, and holiday tunes fill every radio station. Friends and family are busy picking out the perfect gifts to give to one another and children are awaiting the arrival of gifts from Santa under the tree. The Christmas season is a time to celebrate the holiday in not just commercial ways, but also in our faith life as we prepare for the coming of Jesus.
Although Christmas is only one day of the year, most would argue that the holiday season really commences on the first day of December. As soon as the month of December begins, most people begin thinking about purchasing a tree, hanging up decorations, or baking festive holiday treats. One Christmas tradition is explained by 6th grader Win, as he states, "My family and I went to a play last year and this year we are going to the Nutcracker. Going to these shows during the holiday season is always entertaining and a fun way to spend time with my family."
Additionally, for those students in school, the long break to do activities like ice skate, travel, or stay cozy at home with family is a nice way to relax. In my family, we make and wrap Christmas caramels every year. We put them in small bags and deliver the bags to our neighbors and teachers. Sometimes I take part in secret Santa gift exchanges with my friends. Secret Santa gift exchanges are when a group of people draw names from a hat and everyone must buy a gift for the person they drew at random. The gifts are handed out in secret, and it is a really fun way to bond with my friends while also buying them a gift to show my appreciation for them.
Also, every Monday my family lights one candle for advent on our wreath as we prepare for the coming of Jesus. Every family has different traditions or activities that they partake in during the holiday season.
On Christmas Eve (December 24), anticipation for what is going to come in the morning for Christmas builds. For example, 8th grader Natalie comments, "Our immediate family goes to Christmas Eve mass every year. The mass feels special and I love seeing the live nativity at the mass." When attending Christmas Eve mass at St. Robert, mass goers  notice elegant decorations throughout the church and a real live nativity with a baby and two camels. Going to mass on Christmas Eve is a great way to reflect spiritually about how much Jesus loves us, something we often lose track of as we are busy thinking about presents and materialistic goods.
When asked about dinner traditions, Win stated, "Our family eats turkey on Christmas Eve with cheesy potatoes. It's a tradition to have this dish for dinner the night before Christmas in my family." After dinner, most kids fall asleep on Christmas Eve dreaming about visits from Santa and his reindeer, and setting out cookies, milk, and carrots for his arrival is a popular tradition. On the actual day of Christmas, families can celebrate by exchanging and opening gifts, and most children are eager to see what Santa brought this holiday season. Prior to Christmas, most kids make lists of their desired gifts. Younger kids may wish for all sorts of toys while older students most commonly wish for clothes, gift cards, or possibly electronics.
In my family, after we are done opening gifts, we have a special breakfast tradition. On Christmas morning, my family makes cinnamon rolls using my grandma's recipe. We all sit around the table and talk as we munch on the treat.
Behind all the gift giving and preparations for Christmas, most people forget to reflect on what this holiday is about. In our faith life, this holiday is a celebration of Jesus and his coming into this world. In our family life, Christmas is a holiday to connect and grow together in Christ's love as we enjoy each other's company and have fun. During this time we should always remain humble and thankful for all that we have and the people that we have to share it with.
Most people say that Christmas is the season of giving. The new phone or new tennis shoes you receive are not supposed to be as valuable as the reward behind helping out and giving back – the gifts you give every day by contributing to the world around you are much more important than the toy beneath the tree. From wrapping presents to decorating gingerbread houses, Christmas is seen as a really commercial holiday. However, the true meaning behind this holiday is much deeper, and it is up to you to discover what makes Christmas special for you.
Total Views: 690 ,

About the Writer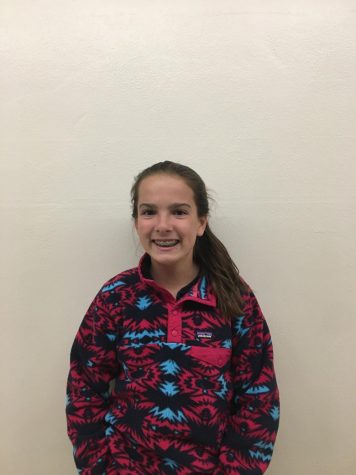 Lucy, Editor-in-Chief
Lucy is a current 8th grader at St. Robert. This year she is Editor-in-Chief of the White and Blue press, and she is very enthusiastic to see what this...