A Snapshot of 2017
Hang on for a minute...we're trying to find some more stories you might like.
As we venture forward into the first weeks of 2018, it is important to look back at some of the moments that shaped last year. Whether it be the top tracks on the radio, the thrilling TV shows, or the must have clothing items, let's take a look at what 2017 consisted of from the perspective of a teenager.
2017 was a year in music that consisted of genres like pop and rap. Some of the most popular hits of the past year included "Havana" by Camila Cabello, "Perfect" by Ed Sheeran, and "Feel it Still" by "Portugal. The man." Additionally, "Despacito" by Luis Fonsi became a huge hit in the Americas. Justin Bieber even did a combined cover with the song, which became a hit as well. However, although all songs had strong debuts, when a song is continually played on every radio station it can grow irritating to hear. When asked about some of these top hits Katie, an eighth grader at St. Robert stated, "All of those songs were frequently played on the radio and became obnoxious to hear, and personally some of those songs are not my style of music." Also, 2017 was a year for new artists. Khalid, Cardi B, Camila Cabello, Halsey, and Dua Lipa all rose to fame this year. Khalid released his hit song "Young Dumb and Broke" which was dropped in March, but became popular a few months after, and soon many other songs on his playlist such as "Saved" and "8TEEN" became hits. All of these new artists released songs that became catchy and the lyrics were easy to pick up. With each new song their fame continues to grow into 2018.
Aside from music, the fashion industry boomed last year with new trends, colors, and designers. Madeline, the writer of the fashion column, comments on last years trends by stating, "Millennial pink was a big color in the fashion industry last year, and purple is expected to make a rise this year (2018). Fanny packs worn as cross body bags made a comeback in 2017 and the trend is expected to continue. Matric glasses and clout goggles made a start, although some people wore these accessories as more of a joke." Some of these trends were more evident in women's or celebrities' fashion than they may have been in the wardrobes of St. Robert students. As a teenager, I have found that a cute or trendy pair of shoes is a great way to express your style and complement any outfit. The popular shoes last year were not necessarily new brands, but instead, most of them were reoccurring from previous years. Some of the most commercial shoes that teenagers sported last year included Vans, Converse, Adidas Originals, Nikes, and Chacos. Many people had Converse in both the low-top and high-top styles – and in a variety of colors such as navy, grey, and white. Regarding brands, it has been discovered that "Gucci was the most searched brand of 2017 and their slides were a popular item of purchase," Madeline states. Many celebrities sported Gucci attire like belts, coats, and shirts. Madeline voiced her opinion on the brand by stating, "I think that the brand has become more of a status symbol instead of an actual fashion outlet." Although that may be true, it can not be denied that this brand has flourished in the past year, and we can only wait to see how fashion evolves in 2018.
2017 was also a year to snuggle up and watch a good movie. Wonder Woman, Star Wars: The Last Jedi, and Beauty and the Beast were all new releases this past year. As far as TV shows go, Riverdale and Stranger Things were two big must-watch shows for teens. Many teens were intrigued by these shows because they feature teeangers in the cast. Stranger Things outlines the story of a group of young teenagers fighting against the government for answers after one of their friends goes missing. Along the way they meet a girl named "Eleven" who possesses powers and through their fight to escape the government they share a bond of friendship like no other. The second season of this show was recently released on Netflix in the fall of 2017, and many students at St. Robert have already finished the season. Nick, a 6th grader comments, "It didn't disappoint. I personally enjoyed season two even more than the first season. I finished the second season in less than a week, and I cannot wait for season three to come on Netflix!" Riverdale, a show directed for more middle school and teenage audiences, follows the life of Archie Andrews, Betty Cooper, Veronica Lodge, and Jughead Jones and their lives in Riverdale. Riverdale is a seemingly perfect town, but the secrets that lie within those who live there shape the action-packed episodes. A second season of this Netflix original was released recently and viewers scrambled to watch the season. If you are looking for a new show to dive into, either of these popular TV hits would be a great option.
Although music, fashion, and TV are only three categories of change last year, in a teenagers world these aspects are very important. I'm sure everyone is excited for what is to come in 2018, and the best way to start the year is to remember what moments made 2017 so memorable.
Total Views: 598 ,

About the Writer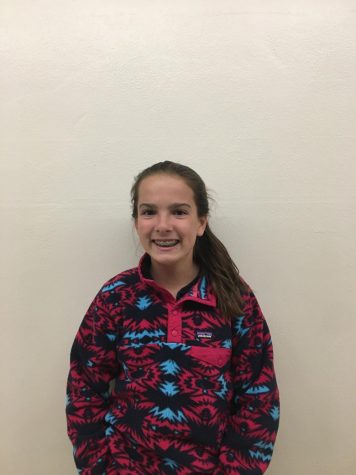 Lucy, Editor-in-Chief
Lucy is a current 8th grader at St. Robert. This year she is Editor-in-Chief of the White and Blue press, and she is very enthusiastic to see what this...