From Vancouver to the Big Screen: Finn Wolfhard
Hang on for a minute...we're trying to find some more stories you might like.
Today, not all celebrities are old enough to be legally allowed to vote. Despite this, sometimes, the most pint-sized professionals and their opinions have the biggest impact on modern pop culture. At only 15 years old, Finn Wolfhard, one of these famous kid actors, has swept the nation. Fans love his unshakeable kindness, many talents, and that special charm which he emanates. The child actor, whose career took off after he landed the role of Mike Wheeler in Stranger Things back in 2016, is now taking lead as one of the most recognizable child stars in modern history.
In 2015, he answered an open cast call for Stranger Things with an audition video and later got the lead role of Mike Wheeler. The sci-fi thriller Stranger Things, which first came out on the online screening platform Netflix in 2016, tells the story of three young boys in search of their missing friend, and along with them on this journey is a girl who has supernatural abilities. It is interesting to see how this show has grown into fame, as creators Matt and Ross Duffer had admitted that they initially believed wouldn't be successful. The show now has a cult following as well as many different television awards.
Wolfhard's character Mike is one of the leads of the series and the actor has since gained much popularity. Wolfhard's quirky and nerdy character is nothing short of lovable. The intelligent character's development over the course of the series captivates viewers. After his friend Will goes missing, Mike and his two friends, Dustin and Lucas, have to face many challenges, both mentally and physically, to figure out his whereabouts in the Upside Down. Mike's acts of courage and heroism turn his character into one of the bravest on the show, and his relationship with Eleven, the strange girl the boys stumble upon, is one of the sweetest in history. Their iconic friendship, romance, and trust in each other is a fan favorite. Wolfhard's acting, especially while working on scenes with Millie Bobby Brown, the girl behind Eleven, is impeccable for his age.
On Stranger Things, Wolfhard works with his child co-stars, who are also gaining immense popularity. Millie Bobby Brown is one of these co-stars. The 13 year old actress/model from the UK is now one of the most successful people of 2018.
Wolfhard has also starred in the 2017 remake of Stephen King's It as Richie "Trashmouth" Tozier, friend of the main character Ben Hanscom. He explains that he loved working on It and became very good friends with all the kids. "We're like a huge family," Wolfhard explains in an interview for the website Movieclips Coming Soon. He further discusses how he hangs out with the cast after shooting, and they have even had sleepovers together. He had much faith in the success of the movie and he was very impressed with the accuracy to it's novel counterpart. For Wolfhard, working on It was a lot different than working on his previous projects, especially season 1 of Stranger Things. For him, the exposure and acting experience can be very beneficial in the long run of his career.
Wolfhard's character Richie is very different than its Stranger Things counterpart. Richie can be described as being, well and unique. The young boy portrayed in his iconic GI glasses and Hawaiian shirt is most definitely a chatterbox with lots of energy and snarky comments. Tozier is portrayed as the comic relief of the movie and often gets on the nerves of the other characters, but no matter how annoying he may be, he has a lovable charm that the Losers Club and fans alike can't help but adore.
In the next few years, Wolfhard is rumored to play a role in the 2018 horror film The Turning based off Henry James novella The Turn of the Screw as well as starring alongside the widely popular American actor Ansel Elgort in the movie adaptation of Donna Tartt's best selling novel The Goldfinch.
He has also appeared in several music videos, two for the Canadian punk rock band PUP, like Guilt Trip (2014) and Sleep in the Heat (2016), as well as starring and co-directing in Sonora (2017) for the American alternative band Spendtime Palace. However, Wolfhard isn't just a pretty face for the big screen. He is also lead singer/guitarist in the Vancouver-based alternative band Calpurnia, which is rumored to be releasing their first album later this year. "It is so impressive to see somebody so young have so many different talents," says St. Robert student Kiki.
Finn Wolfhard was born in Vancouver, Canada on December 23rd, 2002. Before getting his lead role in Stranger Things, Wolfhard did have several small roles. He has appeared in episodes of The 100, Supernatural, and Young Math Legends. Outside of his career, he has also showed the world how kind-hearted he his. The star has started his fair share of campaigns. He started one asking his fans to donate money to hurricane relief. His other campaign was the Work Hard Play Hard Wolf Hard campaign. This campaign sold t-shirts through Represent, a shopping website, and a portion of the proceeds went to an elementary school in an indigenous community. The school had been struggling with isolation economically and culturally, and this organization was an attempt to help the children there. Both of these campaigns were very successful.
Just like the kids of St. Robert, Finn is currently enrolled in a Catholic School. However, the star is Jewish. Wolfhard, who is French and German as well as Canadian, tells IMBD, "It's really weird, I have really weird blood" when referring to his heritage. What many don't know about Wolfhard is that he isn't the only actor in his family. His older brother, Nick Wolfhard, voices characters in two animated series. When the two brothers aren't both working, they usually spend free time hanging out together. If there's one activity that Wolfhard loves thats mentionable, it's skateboarding. The actor says on his twitter account, "I used to skate board, so when I named my Twitter it was Finn skata. Like skater." The tweet was posted over a year ago, and Wolfhard has since taken up his number one past-time once again. 
Whether it's acting, singing or skateboarding, you can guarantee that Finn Wolfhard will be the one to master it all!
Total Views: 1849 ,

About the Writer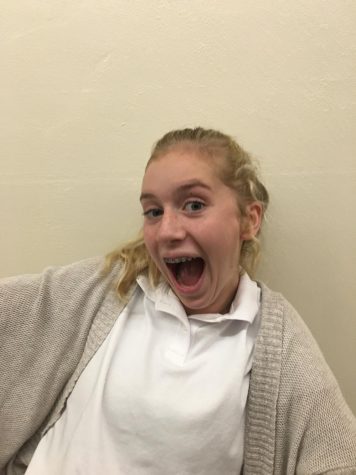 Maggie, Off Campus News
Maggie has lived in Wisconsin her whole life, and she has gone to St. Robert for 9 years. She is in seventh grade and writes for the Off Campus News section...