Churro Sale 2018
Hang on for a minute...we're trying to find some more stories you might like.
Churros: the soft dough, toasted crust, and savory cinnamon sugar coated treat is a favorite for many students at St. Robert School. However, it can often be hard to find these treats at any local store or market. If you are looking for something sweet to snack on, you are in luck because the churro sale is an annual event that takes place at St. Robert School. Students rush in during their lunch periods to donate two dollars and grab a tasty treat. After counting up the money and enjoying these tasty treats, let's look back at the success of this years sale.
The sale took place two weeks ago, Monday, during students' lunch periods. Every grade files into lunch as usual, but instead of sitting down with their lunch, they are directed into a line at the churro booth. After handing over two dollars, each student is given a churro wrapped in a napkin. Students can enjoy the treat with their lunch and are encouraged to finish the churros before heading upstairs. When asked about the taste of the churros, 8th grader Molly states, "They taste sweet, although sometimes they can be a bit chewy." Nevertheless, it seems like students are willing to put that aside when enjoying the taste of the churro.
Now, some people may be curious regarding the money donations and where they are headed. In fact, every dollar raised from this sale was donated to an church in Tenejapa, Mexico. Katie, an 8th grader at St. Robert states, "It is really nice to enjoy such a great treat while also knowing that the donations are benefiting others. It's a win-win!" Katie elaborates by saying, "I wish we could have even more sales. We could raise even more money and get churros on a regular basis!" This event is one that raises much excitement and anticipation, and students are always hungry for a sweet lunch treat.
This event supports a good cause and it is a great way for students to enjoy a little extra treat with their lunch. Churro sales are often bring in big profits, and in fact, this year the sale raised over 400 dollars! The school was pleased with how much everyone was willing to donate for this treat to help a greater cause, and all the students are looking forward to the next sale to come.
Total Views: 576 ,

About the Writer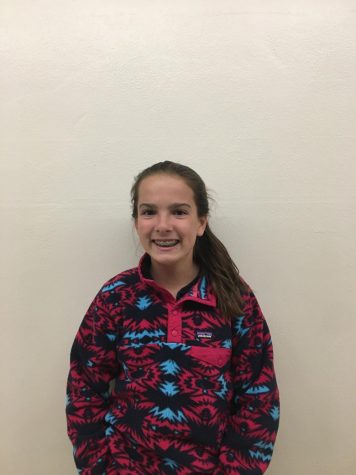 Lucy, Editor-in-Chief
Lucy is a current 8th grader at St. Robert. This year she is Editor-in-Chief of the White and Blue press, and she is very enthusiastic to see what this...