Hola! Bonjour! Welcome to Camp!
Hang on for a minute...we're trying to find some more stories you might like.
Fun traditional activities, dancing, and lots of ethnic food are just some of the things that make the stay at Concordia Language Villages a trip to remember. Concordia Language Villages is a language and culture program that is located in Bemidji, Minnesota. There are many villages inside the grounds of the camp-  each highlighting a different language – ranging from Swedish, to Arabic, to Japanese. The seventh grade class at St. Robert has the option every year to take coach bus up to Bemidji to stay at either the French or Spanish camps, depending on what language they take at St. Robert. It is a very engaging experience where kids fully immerse themselves in their language of study and make memories to last a lifetime.
Seventh graders Owen and Agrim recently visited the French village at the Concordia Language Villages and thought it was an interesting experience. Agrim added, "It made me feel like I put all of the stuff I learned to use." Agrim was explaining that all of the work he did in class finally paid off. At the French camp, there are many activities that everyone participates in. Owen said, "Most of the activities were pretty good; I liked the ones that were games."  Activities at French camp ranged from baking, games, and dancing. Also, along with these engaging experiences, there was scrumptious food served for every meal. Owen claimed, "I really liked the food because it was different every day and there were lots of delicious vegetarian options."
Eighth graders Madeline and Maggie visited the Spanish camp at Concordia Language Villages last year and they had mixed feelings about their experience. To start off, Maggie said, "I did not enjoy a lot of the activities at the camp. However, I did enjoy free time and buying candy." She also added about the food, "The meals were delicious especially the very ethnic ones." Madeline stated, "Making Spanish pottery and art activities gave a unique insight into Spanish culture, and it was really fun!" Unlike Maggie, Madeline found that the activities were engaging, fun, and an awesome way to learn about Spanish. Of course, pleasing everyone all the time is hard, but despite this, year after year, students hold onto positive memories from these camps.
This year, the group of 7th graders did hit a "bump" in the road. The group ended up having to stay an extra night due to the crazy Wisconsin weather. Despite the spring month, the group was hit by a blizzard. They had to postpone their bus trip back to Wisconsin for 24 hours. Luckily, the camp generously hosted and fed the group for that extra day!  Over all, it seems that those who traveled to the Concordia Language Villages had a very memorable time!
Total Views: 718 ,

About the Writer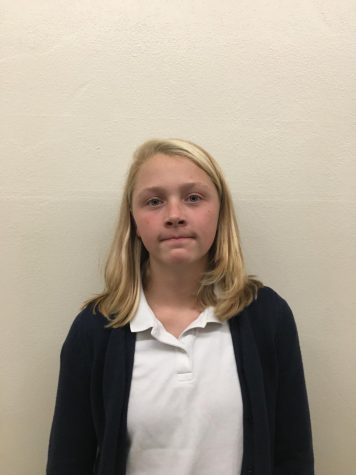 Phoebe, Blue Issue Editor
Phoebe is an 8th grader at St. Robert School and is an editor for The White and Blue Press. She enjoys binge watching Netflix, wakeboarding, and eating...