Brewers Postseason: Past, Present, and Future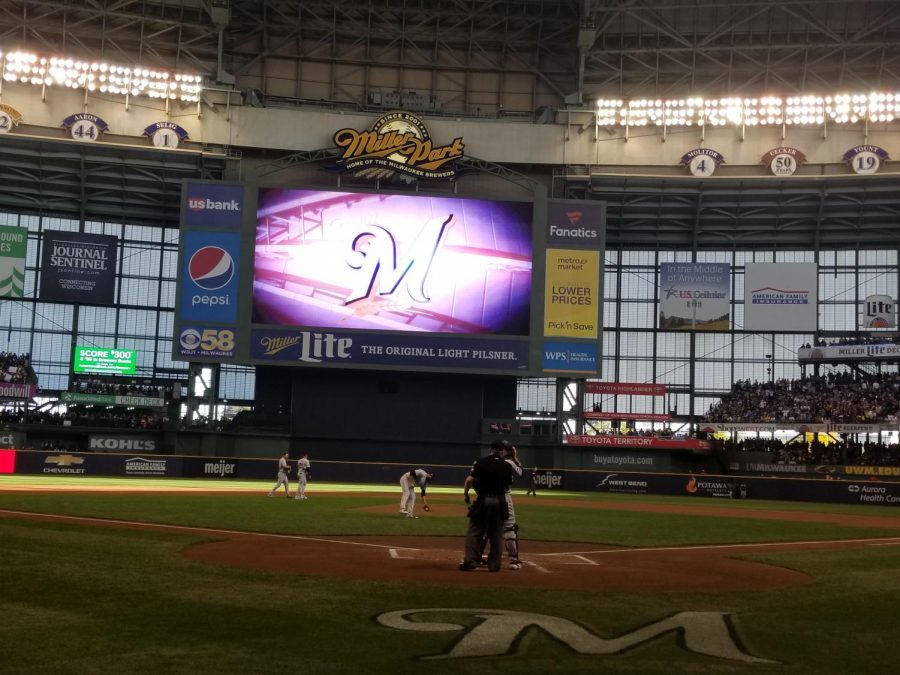 Naod F, Editor-in-Chief
November 15, 2018
Baseball is considered America's sport, and here in Wisconsin, we are lucky enough to have the Milwaukee Brewers as our team. The Brewers have been the baseball team of Wisconsin since 1970, but they have only made the World Series once, in 1982, where they suffered a loss to the St. Louis Cardinals. Mr. Kierzek, a middle school teacher,  and Parker, a St. Robert 8th grader, speak out about their life experiences as Brewers fans.
Mr. Kierzek has been a fan his whole life, and he grew up going to many games and hanging out near the stadium. He considers himself an optimist when it comes to the Brewers chances, and prior to the playoffs a few weeks ago, he stated, "I had the feeling they were going to be a really solid team after they picked up Lorenzo Cain and Christian Yelich…My prediction before the season was that they'd win 91 games and clinch a Wild Card spot." Even though he was hoping for them to clinch a Wild Card spot, he was obviously more excited about what they had accomplished this past season. Since the Brewers haven't made the playoffs often historically, Mr. Kierzek was thrilled when they clinched the Wild Card in 2008, but he was even more excited when they reached the League Championship in 2011 where they lost again to the St. Louis Cardinals. He was optimistic that they would push through to the World Series. Although a World Series game didn't happen this year for the Brewers, Mr. Kierzek hopes to be able to get World Series tickets when the Brewers do make the championship someday and win.
He also has really liked Lorenzo Cain, and he followed Cain as the player was drafted by the Brewers and traded away, but Mr. Kierzek was hoping Cain would one day return to the Brewers. Additionally, Mr. Kierzek hasn't given up hope in seeing a Brewers World Series one day because even though the Brewers lost to the Dodgers, he believes they will be able to come back stronger next year as they have many young players that are still developing their skills.
In addition to Mr. Kierzek long history as a fan, another St. Robert community member, Parker, has also been a Brewers fan all his life, albeit it isn't that long. Parker was confident that the Brewers would do well in the playoffs since the few times the team made it that far, they have performed relatively well. He felt the Brewers exceeded his expectations this season as they clinched the best record in the National League, and that is due in part to their young players as he stated, "Everybody on that team is young, they also have a lot of up and coming position players, and they have tons of future aces (pitching)." Parker has really liked Christian Yelich in particular because "[he] can hit on all aspects (power, contact, situations)." Looking forward Parker said that he would 100% go to a World Series home game if the Brewers ever made the World Series because it would be the Brewers second time in the championship. Lastly, he feels the Brewers have a great young core, and even though they didn't make it this year, he believes they will make the World Series sometime in the near future.
Although the Brewers didn't go all the way this season, most people believe that they will come back better and better each year until they win a championship or maybe even two. Finally, the Brewers are our hometown team, and they have done great things. I can't wait until next season!
Total Views: 389 ,