Leading Middle School: Ms. DeLapp
The definition of a leader is a person who commands a group; this is the exact definition of Ms. DeLapp. She manages a schedule filled by running forensics, advising newspaper, co-facilitating project high school, and teaching classes. She is able to juggle these activities because she is a great leader, and she has been involved in these activities ever since she started her job here at St. Robert.
Ms. DeLapp became involved with each of the extracurriculars she is connected to through a variety of pathways. She took over the White and Blue Press for the teacher who left, was asked by Sra. Demet to help facilitate Project High School, and she asked the principal if she could start a forensics team because she loved competing in high school. When she came to St. Robert, there was already a newspaper team staff by the former middle school teacher, Mrs. Riepenhoff,, but upon her departure, Ms. DeLapp stepped in. Since then the staff has grown immensely; there were only 8 members of the staff in 2014 and now there are 22. Similarly, when Ms. DeLapp started the forensics team, the first year only 11 kids participated, but last year 40% of the middle school was on the team.
These activities matter to Ms.DeLapp because she thinks that students can learn from them, and they will have a good time. The activities that she leads are fun, and she hopes that the students participate for fun rather than because a parent required them to or because they want the activity as a resume builder. Even when the motivation to join the programs she leads is more "external," Ms. DeLapp hopes that students come to love the activity and grow due to their participation. Forensics, newspaper, and Project High School all include using teamwork and improving communication in a variety of ways. Working with a team and communicating effectively are crucial life skills, and learning these skills through fun after-school activities is a great way to grow, strengthening both teamwork and leadership skills in students. Ms. DeLapp is a good person to learn from because she is passionate about helping students share their voices, whether that is through writing or speaking.  She hopes to give students the tools they need to succeed.
Ms. DeLapp describes herself as a person who likes to be busy and productive, so leading these various programs is a joy, not a burden. However, with the many activities, there is always a lot on her to-do list. Ms. DeLapp states, "I like to get things done, so I jump on [the to-do list] and get [whatever needs to be accomplished] done." Ms. DeLapp has a lot on her plate and still needs her own life outside of school, so she gets things done quickly in order for her to do non-school related activities, like camping or watching Marquette basketball games, over the weekends. When Ms. DeLapp has a break at school during the day, she uses that time to prepare for her next class and get other things done for forensics and newspaper. Again, this productivity, allows her to stay on top of a large workload. However, like any human, sometimes she struggles to be productive, especially right after school or on Fridays. This usually results in late nights when she is trying to catch up on the work she avoided earlier.
Ms. DeLapp encourages others to join forensics, White and Blue Press, and Project High School because they are very fun, and they are a great way to get involved with school activities and with classmates. Ms. Delapp is a great leader because she has learned how to be a leader as she grows older. Now she can teach the middle school students here at St. Robert how to be a great leader, so we can spread our knowledge to others.
Total Views: 864 ,
About the Writer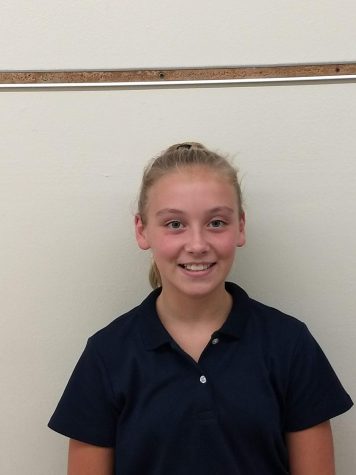 Mary F., Media Team
Mary is an eighth grader at St. Robert School. She is very excited about being a member of the media team again this year. Mary loves to hang out with...