The New Artsy Face of St. Robert
Hang on for a minute...we're trying to find some more stories you might like.
There are many new faces at St. Robert this school year. One of them is the brand new art teacher, Mrs. Ciganek. After Ms. Amorin left for a full time job at a new school, Mrs. Ciganek stepped up to take her place. Mrs. Ciganek has been teaching for over 30 years and also works at St. Joseph Parish School in Grafton on Mondays. Mrs. Ciganek states, "I like teaching at St. Robert School, and I'm starting to feel at home here. The students and staff members are great. Mostly, I am looking forward to the day when I know all of the students' names without looking at my seating charts!" 
Mrs. Ciganek is married and has a 21 year old son. She also owns two miniature schnauzers named Kobe and Zoe. She shares, "My husband taught art at Rufus King High School in Milwaukee for many years before he retired. We share an interest in art and education." Mrs. Ciganek grew up in a teacher-filled household. She explains, "My parents were both teachers, and I wanted to be a teacher since I was a child. My favorite part of teaching is that I always learn new things from my students–and I love learning!" She adds, "I enjoy teaching art so much that I can't imagine having any other type of job." 
The students have many positive opinions about Mrs. Ciganek. To elaborate, 8th grade student, Mara states, "She is very kind and we are doing fun stuff in class." 
While Dana states, "Mrs. Ciganek is a wonderful teacher who teaches us about art." 
When asked why she decided to teach at St. Robert, Mrs. Ciganek responded, "I enjoy teaching art to students in grades 4K through 8th grade, and when I learned that there was a job opening for an art teacher at St. Robert School, I was excited about the possibility of working with the students here. I was even more excited when I was offered the job! Teaching at St. Robert offers me new opportunities to learn from the students and to grow as a teacher."
Mrs. Ciganek likes many things about art, she says, "I like the process of making artwork and using different materials to problem solve and form objects that are both decorative, like drawings and paintings, and functional, like ceramic bowls and other objects." Mrs. Ciganek claims that she doesn't have a favorite grade to teach: "I like the variety of teaching art to students in different grade levels." Outside of teaching and doing art, Mrs. Ciganek enjoys creative writing and reading. 
All the students are super excited to learn all about art this year and hope that Mrs. Ciganek and all the new teachers feel welcome in the St. Robert community. 
Total Views: 58 ,

About the Writer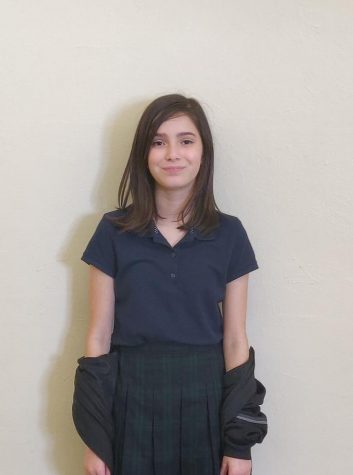 Mercedes P., Fine Arts
Mercedes is an eighth grader. In her free time she enjoys horseback riding, attempting to play with her dog, and hanging out with friends. Some of her...