Tik Tok: The World-Changing Social Media App
Audrey S, Off-Campus News
October 17, 2019
Social media apps are designed for many different reasons. YouTube allows influencers to post vlogs about their daily lives or popular trends. Vine was an app where people would make relatable and funny videos, but this app was sadly taken away from the social media world in 2016. Instagram and Snapchat are mostly used for sharing fun image-related content with friends and family. In 2017, the new-and-improved Musical.ly combined the concept of these older apps into one: TikTok. 
TikTok is an app where users can express themselves through dancing, singing, or sharing funny content. In 2015, Musical.ly was originally introduced as a lip-syncing app and was used primarily by teens, but the app was bought by another company and made into TikTok. TikTok, like Musical.ly, continues to primarily be used by teens. The app is easy to work, and users put their creativity and imagination to the test when it comes to fun dances and humorous videos, for the vast majority of "TikTokkers" strive to land a spot on the "For You" page – an area of the app that highlights trending, relatable content. This would also lead users to gather more likes and followers.
On TikTok, there are multiple ways for people to create a video. When a person opens TikTok, there are five icons on the bottom of the screen. There one can see a house representing the home page where people can view others' videos; a magnifying glass to search for other users, videos, or hashtags up; a text bubble representing the inbox where users can read the messages they receive; and a person representing one's personal profile. In the middle of those icons is a white plus sign surrounded by a black square, and when a person clicks on the icon, it brings them to a place to record their video. Next, to start recording, there is a red button at the bottom of the screen that will start recording after the user presses down. Below the red button are two different settings; a person can either choose to make a 15-second video or a 60-second video. 
Users can also choose to flip the camera, make the video go at a specific speed, use a beauty filter that makes a person's blemishes disappear, apply filters to make a video colorful, and use a timer if the user is trying to do more complex editing and splicing. After creating the video, people can add text, stickers, special effects, filters, and sounds to make their videos even more creative and fun. Finally, there is a red text box that says "Next" in the bottom right corner, and when one clicks on the icon, they are taken to a page where they can now post the video. People have the choice to add a caption, tag friends, and use hashtags. The user can also control who can view the video, whether or not they want other people to comment on their post if people can duet to their post, save the video to their photo album, share to other people using other platforms of social media, and finally, post the video. The person can also choose whether or not they want their video to become a draft, saving it for later publication.
After figuring out how to create videos, people can start the creation of their videos. Trends on TikTok, such as dances or memes of some sort are usually what fills the videos found on a person's feed. Lindsey, an eighth-grader who uses TikTok, explains her reasoning as to why she follows the trends on TikTok: "I like to do dances with my friends and try to get famous on TikTok". Although a lot of the content found on the app is people following along with certain trends, TikTok is also a place where creativity is a huge factor in the content being produced on the app. Evie, another TikTok user, explains, "I love TikTok because it's a fun way to express my personality and it's a creative outlet for my mind." Along with many other users, Evie likes to bring creative dances and ideas to the table. 
Although TikTok is a good way to express people's personalities and get creative, along with every other social media app, there have been safety issues and bad influences found on the app. The New York Times describes TikTok as a "free-for-all" of teenagers racing towards popularity. The content found on the app is also found to be making fun of other users (Herrman). Also, in March of 2019, TikTok was "fined… a record $5.7 million after failing to obtain parental consent for users under 13" ("Is the TikTok (Former Music.ly) App Safe?"). It may seem that a lot of the content found on TikTok is kid-friendly, but some of the sounds and actions used on the app can be inappropriate, leading to unfortunate events. The effect of this cataclysm has opened the eyes of TikTok, and they now have restrictions on what the users under the age of 13 are able to watch and share with others. TikTok has also come out with safety videos so all users can avoid the dangers of the app while still having fun ("Is the TikTok (Former Music.ly App Safe?").
In conclusion, TikTok is a great way for kids to explore their creativity and create funny videos to share with the world while avoiding the dangers of social media. Trends become so popular within weeks, then months, and then nothing, for the imagination is so immense yet fast-moving. With hundreds of millions of users, TikTok has been undeniably sweeping the nation before everyone's eyes.
References
Herrman, John. "How TikTok is Rewriting the World". The New York Times, The New York Times Company, 10 March 2019. www.nytimes.com/2019/03/10/style/what-is-tik-tok.html
"Is the TikTok (Formerly Musical.ly) App Safe?" Protect Young Eyes, Protect Young Eyes, n.d. protectyoungeyes.com/apps/tiktok-parental-controls/
Total Views: 496 ,

About the Contributor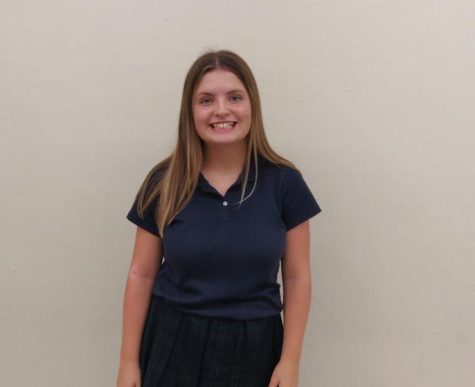 Audrey S, Off Campus News
Audrey is excited to be on the White and Blue Press for her second year! She writes about off-campus news. In her spare time, Audrey likes to spend time...