Beautiful Voices Coming Together
Hang on for a minute...we're trying to find some more stories you might like.
Mrs. Gall is the choir teacher at St. Robert. She was a new addition to the school last year. Since then, she has proven to be a great teacher, who all the students learn a lot from. Part of her job is helping the students to prepare for multiple concerts throughout the year. Every year there is a fall concert that showcases the talents of the middle school. This year the 7th and 8th graders performed two songs: "Asante" and "J'entends Le Moulin". These two songs are very beautiful pieces and impressed the crowd. 
Picking the pieces for the concert is very crucial, for enjoying the music is the whole reason people come to the concert. It took all of September to pick "J'entends Le Moulin" and three weeks to pick "Asante". Mrs. Gall picked both of the beautiful pieces because she thought they would both be very fun pieces to learn: "Both pieces have just enough of a challenge for us to learn something." While the two pieces are very different from each other, they were both compelling in their own way. 
Each of the two pieces included several singing parts: soprano, alto, bass, and tenor. Mrs. Gall enjoys having the choir singing different parts because "7th and 8th grade should be able to sing two different parts, and doing different notes and harmonies sounds so cool." Having several parts helps the choir sound more "full". This also gave students notes to sing that were tailored to their own voices and abilities.
The choir had several practices a week in order to prepare for the concert. In addition to the regular music class, Mrs. Gall added regular practice for sectionals during the 11:00 recess time. Mrs. Gall thinks, "[Learning the parts of the songs] was slow moving at first, but once we got into it and got extra sectionals we got the work done that we needed too." These additional practice times allowed the students to master their assigned parts and work together to create harmony.
Despite the clear progress the choir has shown since Mrs. Gall started at St. Robert, at first didn't think she would enjoy teaching 7th and 8th grade. Now, she has grown to love middle school choir because of the advanced singing level the students are able to reach. She enjoys listening to the middle school choir because of how beautiful they can sound. Though she still loves teaching preschoolers, she doesn't have the chance to teach them challenging songs as she does in middle school. 
On the day of the concert, behind the curtains of the stage, kids warm up by stretching, breathing exercises, and vocal warm-ups led by Mrs. Gall. Students talk about their nervous thoughts to try and release them as well in this preparation time. Then, the rows of singers are formed, and students walk onto the stage. After months of practice, the students were called to perform.
Lights, camera, action!
Total Views: 35 ,

About the Writer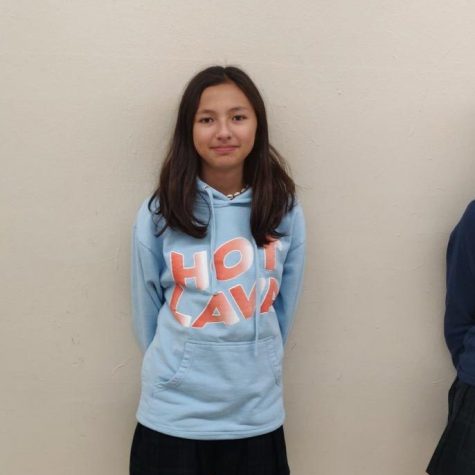 Christina M, Daily Life
Christina is an 8th grader at St. Robert. She enjoys playing tennis, gymnastics, and volleyball. She also likes hanging out with friends and family.