High School Entrance Exams
The fall season is the most stressful time of year for the eighth graders. Many students choose to continue attending Catholic schools as they transition into high school, which means they have just taken the entrance exam for a multitude of highschools. For girls applying to Divine Savior Holy Angels, they had to write two essays prior to taking the exam on either November 8th or 9th. The boys applying to Marquette University High School also sat through a long examination on the 8th and the 9th. The boys applying to MUHS and the students applying Dominican both had to write an essay during the exam itself, giving them no time to really edit and improve their ideas.
The eighth graders conversations during lunch and before school right now are focused on high school choices, graduation, and future sports. During these conversations, my friend Flan and I like to intentionally switch the topic to something less stressful. I am excited about high school, however, I enjoy my time at St. Robert, and I don't wish to fast forward my experience here by only thinking about next year. Flan too does not want to miss out on the present moments. We never want to take our days at St. Robert for granted.
Prior to the entrance exam, all of the students were a bit jittery. Nerves were running high for those trying to test into schools for admittance. Personally, I kept thinking about how much I wasn't going to know on the entrance exam at DSHA. The possibility of not being prepared for this huge test was terrifying. The thought of failing the exam was looming over everyone's heads. From the girls perspective, this test would determine the fate of their future.
However, now that these tests are over, opinions about their nature and power has shifted greatly. For the St. Robert students, the entrance exam  felt relatively easy. I personally thought that I was very well prepared. Almost everything on the test, I have already learned here at St. Robert. With a sigh of relief, we walked out of the entrance exams confident that we would be admitted to our schools of choice. Thanks to the support of our parents and the guidance of our teachers, St. Robert's 8th grade class seems to feel pretty confident after finishing the exams. 
Despite this, the chatter does not stop though the tests have already been taken. For example, the results of these exams come out in January for DSHA. This puts everyone on edge for the next three months. While students may feel that the test went well, they also recognize that they won't know for sure how it went for some time. While we wait to hear, we continue to ponder and worry together.
Total Views: 592 ,
About the Writer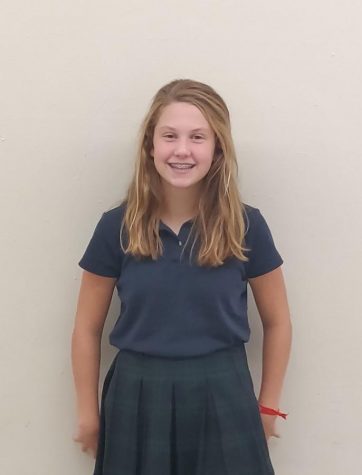 Evelyn C., Editor-In-Chief
Evie is very excited to be Editor-In-Chief of this year's student newspaper. Last she wrote in the Creative Response section. In her free time, Evie likes...