Christmas Traditions Around School
The Christmas season is upon us! Christmas songs are being played on almost every radio station, and St. Robert School is bubbling with excitement. 
At St. Robert in order to help prepare for the coming Christmas holiday, every Monday morning during Advent, the entire school meets in the gym for a prayer service. A new candle on an Advent wreath is lit as Christmas wanes closer and closer. Together, students prayerfully reflect. Also, multiple classrooms in the building boast their own Advent wreaths, which remind students each day that Advent is a season of preparation for the coming of our Lord.
During this season many family traditions are also followed. For example, my family has a homemade Advent calendar in the house. For each day of Advent, there is a little symbol that relates to Jesus, and with each symbol, there is a small passage referring to the Bible or Jesus' life. My grandma and mom made this calendar about forty years ago. This calendar is very important to my family. 
Another 8th grader, Flannery, has many traditions that she shares with her family during the Christmas Season. Her family gathers around their dining room table, and they create gingerbread houses. The smell of sugary gumdrops and frosting fills their house during Advent as they prepare by spending time together crafting these fun holiday masterpieces.
Mary, an 8th grader, has a set routine she follows every year in order to retrieve the family Christmas tree. Her family goes to pick out and collect the perfect tree altogether, and then they celebrate by eating out for an early dinner. After dinner, they come home to decorate the tree.
No matter how people prepare for Christmas, often the weeks of Advent are spent and celebrated with family. The season provides an opportunity for families to get together as one and show their love for one another. The love built during Advent in the homes is then inturn  felt throughout the halls of St. Robert as happy children file into class.
Total Views: 484 ,
About the Writer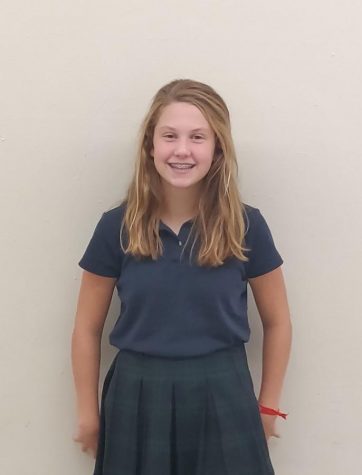 Evelyn C., Editor-In-Chief
Evie is very excited to be Editor-In-Chief of this year's student newspaper. Last she wrote in the Creative Response section. In her free time, Evie likes...