Starting the Day in Prayer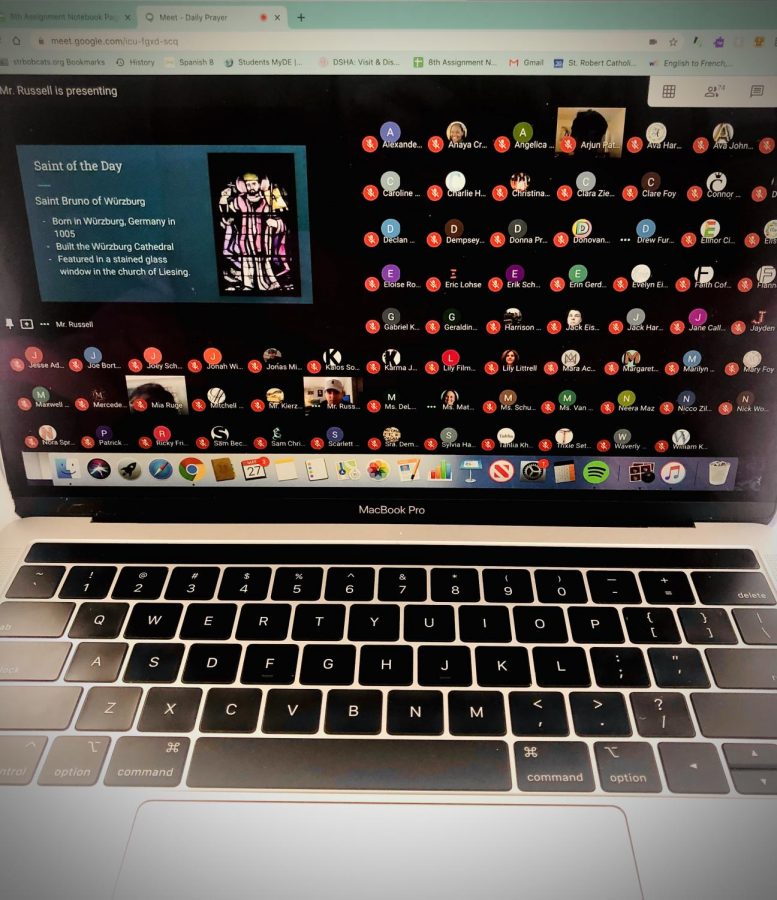 Jane C, Daily Life
May 28, 2020
In this time of quarantine, many people are left feeling a little lonely, but St Robert came up with a great solution! Each day, middle school teachers and students gather on a large Google Meet to have Daily Prayer. This daily gathering can help people feel that they aren't alone and also reminds students to keep working hard in school. This daily Google Meet was set up by some of the middle school teachers, and it is often led by the 7th & 8th grade students. 
Daily Prayer was an idea that a couple of some middle school teachers came up with as a way to keep students working hard and connected with each other. Ms. Matthews, who was one of the teachers involved in setting prayer up, states, "We need to keep our community strong and we wanted to start the day like we do when we are in the school building." Maintaining normalcy is an important aspect to staying happy in quarantine. Since Daily Prayer was an important aspect of in-school life, teachers thought the students would benefit from having that part of their regular schedule still in place. Another practical reason to have prayer is to wake students up: "I think it helps get students up and out of bed and ready to start the day and it helps us all set aside a little time for prayer." If students are set a regular schedule, they can maintain a more ordinary day. This prayer is a marker of when students should set themselves to wake up. It also helps students fit some prayer into their lives when they otherwise may be too distracted to do so. It is important to keep religion in student's lives as it is so prominent in normal school and integral to their spiritual and emotional health. Also, the teachers thought that having the students make the prayers each day would help other kids feel more comfortable familiar as students recite prayer each morning in normal school. 
Daily Prayer is set up on a platform called Google Meet, one of the Google Apps for Education. Teachers chose this platform because it was the most easily accessible to the middle school students. As every middle schooler is required to have a device and already has a GAFE account, Google Meet is a platform that can work with everyone's different devices. Other platforms may require having a computer or downloading new software, but Google Meet offers a way to connect with a phone, tablet or computer. This makes connecting to classes easier and more accessible to students wherever they are quarantining. Some students are stuck in another city, so Google Meet makes explaining new material to students online possible although everyone is very spread apart. Online sessions like prayer are very important as this platform can connect people easily when they would otherwise be separated: "…it is nice to be able to see people's faces and to be able to hang out for a little bit with the online learning," shares a student. Being able to be connected to their friends helps students feel better and less lonely. 
Students are attending prayer every day on Google Meet in order to jump start their day in a refreshing way. "I think that the Daily Prayer is a great idea because it wakes students up in the morning. Daily Prayer is also filled with tons of cool facts, and it is a really good way to get started in the morning," states one student. Kids are able to have a stable schedule when they have something to wake up for every day. An important way to stay healthy during quarantine is to maintain a normal, daily schedule. Daily Prayer offers that to students. Also, another student shared that "[w]ith the jokes and quotes [shared after prayer] it can help the student maybe smile or become happier." Many people feel lonely during quarantine and miss their friends and family, but teachers recognized that through these prayer sessions,  "…the whole middle school can connect with all the teachers and each other." Daily Prayer also puts more prayer into students' lives during this very chaotic time in their lives. As Ms. Matthews shares, "Prayer is an important way to keep our faith strong during difficult times." 
Although these are dark times, the daily Google Meet can help students maintain a normal schedule and help to connect friends while also drawing the community to a source of strength. Students are responding very well to this Meet, and as long as they stay at home, they can look forward to prayer and gathering each day.
Total Views: 246 ,

About the Writer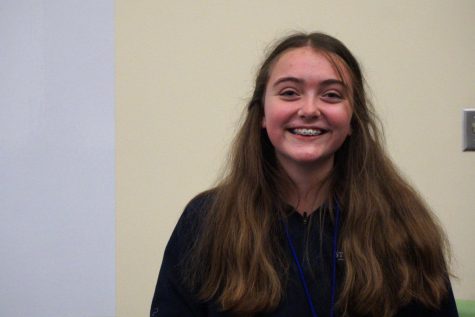 Jane C, Editor-In-Chief
Jane is an 8th grader and the Editor in Chief for the White and Blue Press. In her free time she enjoys playing volleyball, baking, and hanging out with...