City Market Favorites!
Jane C, Editor-In-Chief
December 17, 2020
City Market has long been a St. Robert community favorite for meals, hanging out, and everything in between. The local restaurant is a great place for after-school snacks, doing homework with friends, and more. The hangout is very popular among students, parents and teachers alike. 
City Market is a classic institution for St Robert students to go to for a quick snack before play or basketball practice, or even late meals after a long afternoon of homework. However, after the coronavirus became a large problem and school has enforced many restrictions, not many people have been able to go to City Market anymore. One eighth grader explains, "I personally did go a lot, but now that COVID has become such a big thing, I think it's really limited my time at City Market since last year and the years before that." There are now mask requirements and extra cleaning procedures to ensure customer safety.
Despite the careful practices the restaurant has put into place, many students haven't been able to hang out there as much because of the distancing orders, and many students are hoping to see their favorite after school place go back to normal soon. However, it's still a very popular place for lunch for faculty. Ms. Van Kirk, the middle school math teacher, says, "I go quite often for lunch." City Market has often supplied faculty with quick and easy lunches during school hours. 
Over the years, many different snacks have become popular with students. Some of the most popular favorites among students are the buttered noodles, the seasonal and toll house cookies, the cinnamon rolls, and the fries. Nathan, an eighth grader, explains that the cinnamon rolls are "a good pick-me-up snack." Another student, Harry, said that many of the popular items are good snacks for kids, which may be why City Market is so popular with students. City Market also has a wide variety of foods to choose from and can satisfy any craving. When asked what food that should be added to the menu, one teacher said, "They do not need anything else because they have such a wide range." However, many students had some ideas for additions, such as more entrees like tacos and burgers, or more breakfast food for people who go early in the morning. For now though, the menu is serving the customer just fine. It should be noted that they have expanded their menu to include more vegan and vegetarian options in the past year.
During the pandemic, many people haven't been able to visit City Market as a precaution. However, if you are able to stop in just quickly to get a snack, make sure to support them as best as you can to keep our favorite local business alive! Eighth graders Katherine and Nathan are urging students to go saying, "People should go to City Market because the taste of the food is immaculate. It's a great opportunity to support a local business and have a great time."
Overall, City Market is a St. Robert staple, and we all should try and support it anyway we can! It is possible to stay safe and purchase food from local establishments, so make sure to pop over anytime you have a craving!
Total Views: 411 ,
About the Writer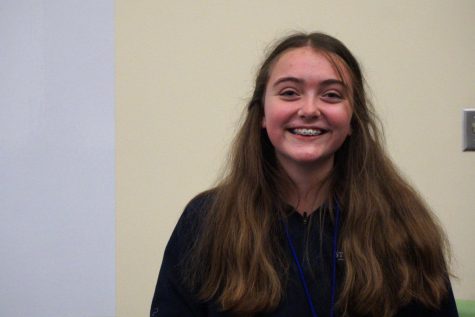 Jane C, Editor-In-Chief
Jane is an 8th grader and the Editor in Chief for the White and Blue Press. In her free time she enjoys playing volleyball, baking, and hanging out with...