Keeping the Basketball Hoops up
The COVID-19 safety precautions on the playground limited students' activities.  Many children had a hard time staying busy at recess. Mr. Andersen, one of the two school gym teachers, found a creative solution. He put up basketball hoops on the playground to give kids something fun to do during their recess periods. The teachers created a rotation to make sure every class got time with the hoops since there were only three hoops, but six cohorts of middle schoolers at recess who all wanted a chance to play. It was a perfectly thought out plan, and the kids enjoyed playing basketball for a couple days. Many kids said, "The basketball hoops added to recess. Before we did not have much to do, but with the basketball hoops, our classes had many new activities to do." Recess time flew by while students got to have recess like before COVID, until there was a complaint. 
The St. Robert's neighbors noticed that late at night, people were showing up at St. Robert to play basketball on the playground. The noise disrupted the citizens of Shorewood and numerous noise complaints were called to St. Roberts. The people shooting hoops late at night were not St. Robert students, but other individuals making use of the newly added basketball hoops. The neighbors were okay with basketball noise during the regular school hours, but understandably they did not want to be kept awake at night.  
In order to eliminate the noise complaints, our school had to either take down the basketball hoops or come up with an alternative plan. At first, the hoops were simply taken down and temporarily, basketball could no longer be played, However, Mr. Andersen came up with the idea to put up the basketball nets every morning before school. The perfect solution was created, and Mr Andersen now kindly takes down the nets every afternoon and puts them back up in place on school mornings.  It's a win-win situation for the basketball loving children of St. Robert as well as the neighbors who are seeking a bit of peace in the nighttime hours.
Total Views: 432 ,
About the Contributors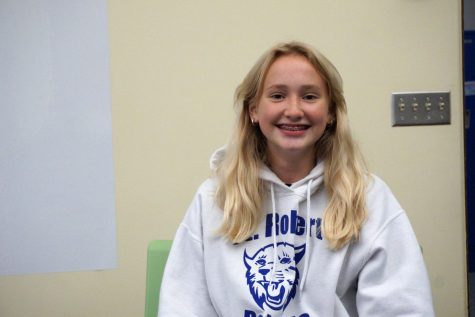 Helen F, Media Team
Helen is an 8th grader a part of the Media Team for the White & Blue Press. She loves playing volleyball and especially hanging out with friends. She's...