Welcome to the World Thomas Kinateder
Hang on for a minute...we're trying to find some more stories you might like.
It's a boy! Mrs. Kinateder's baby is here! Mrs. Kinateder has been pregnant for the past 9 months and the newborn child is finally here. He is a boy, and his name is Thomas Kinateder. He weighed 8lbs, 3oz at birth on September 13, 2018. Everybody at St. Robert School is excited for the new child.
After interviewing Mrs. Kinateder before she went into labor, she explained that she has had one child before Thomas Kinateder, and she didn't have much of a preference between a girl or a boy for the newest addition to her family. The child that she had before Thomas, is a little girl named Claire. The name for the newest baby, Thomas, was initially a surprise for the school as Mrs. Kinateder and her husband were the only people who had known about their new child's name before he was born.
Additionally, Mrs. Kinateder felt very happy about having another baby because her daughter Claire will then have a sibling who will always be there for her, and she will now have a playmate. Having a sibling there to play with is incredible and anyone with a sibling knows that that familial sibling bond is something that can change a life. For those with siblings, imagining a life where they didn't have a sister or brother to play volleyball with or to push them on the swing at Lake Park when they are little, would be horrible. Mrs. Kinateder noted that she wanted two to three children in her family, so when the parents aren't home, her daughter will have a playmate and friend. This will help her to not be lonely and also build strong relationship skills.
In summary, Mrs. Kinateder's new child was one of the most anticipated events at St. Robert in 2018. To make this event more exciting, Mrs. Kinateder, who has been away on maternity leave,  will be back by the end of winter break. The Kinateders are at home currently enjoying their new baby until then. Mrs. Kinateder and her husband will be working hard for years to come to influence and shape Tommy into the best person that he can be.
Total Views: 634 ,

About the Writer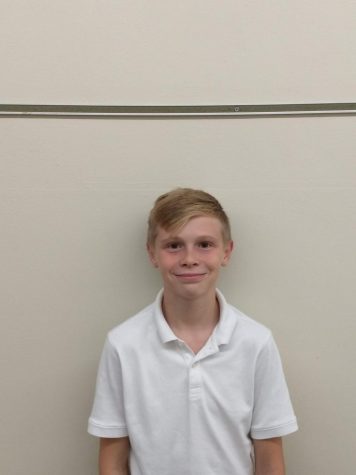 Matt H., Daily Life
Matthew is a seventh grader. This is Matthew's first year doing newspaper and he's very excited for what it has in store for him. Matthew enjoys watching...