A Decade Upgraded
Ricky F., Progress & Change
January 16, 2020
Almost all schools have a website where students, parents, and even prospective families can gather information about the educational institution. These sites usually showcase information about the school, teachers and staff, and community activities. Websites give an early impression of the school to prospective parents searching to find out if the school would be the right fit for their child. Realizing how important this tool is in the modern age, St. Robert School recently took steps to relaunch their own website with a new and improved browsing experience. 
Saint Robert's old website was very outdated. The old website came out over twelve years ago. Since the website was very old, it did not look appealing and did not include features people now expect, like a place to search for keywords. It was time for an upgrade. Mrs. Beckmann says, "Me, Ms. Lesjak (our former Director of School Advancement), and the school Marketing Committee worked together from the early stages of conceptualizing the look and feel of our brand and designing and the site map through a long process of writing content, selecting photos and completing many, many revisions that are still in progress." The new site took about two and a half years to fully build and publish, but the new website opened officially in the middle of November of 2019.
Websites take a well-organized team made of people who have expertise in software, website design, and even marketing. Saint Robert wanted their new website to be perfect, which is another factor that lead to the publication to take so long. The project was massive, made complex by many differing functions and content as well as an intricate building process. Plus, it was hard to fit web design into a very busy school schedule. Another reason that the project took two years to complete was that a company in Chicago started the project, but was unable to finish it. The school then turned to another company, who they thought they could finish it by August 2019. However, they did not finish it by August but instead made the site live by mid-November.
 This is a major upgrade for Saint Robert School. Technology changes at such a rapid pace, so the upgrade was badly needed. The old website built with old software couldn't handle the updates. However, with this new website, updates have become more manageable. Mrs Beckmann says, "The website serves as a 'virtual school office' where current families can find the calendar, forms, and information on their own. It also provides a platform to showcase the school to the wider community of prospective families, and finally, it serves as a snapshot of life at St. Robert for both current families and visitors to the site." This helps parents figure out what is going on at school and how to prepare their child for the coming activities or academics. 
This new website is a huge improvement for Saint Robert School. The images and layout are not only eye-catching but easy to use and navigate. It's been over a decade since the last upgrade, and the new product was worth the wait. While the site is still being tweaked, the new addition will help more and more families find success at the school. Check out the new website at strobert.school!
Total Views: 936 ,
About the Writer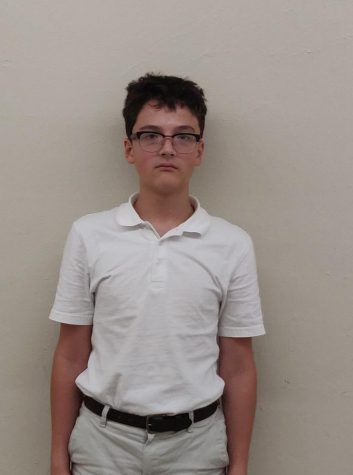 Ricky F., Progress and Change
Ricky is an eighth grader at Saint Robert School. Ricky is the writer for the Progress & Change column. Ricky has been at Saint Robert since the beginning...